Posted on July 19 2019
Have you ever wondered if there are foods you should not be vacuum sealing? There are many foods you can vacuum seal for extended freshness; unfortunately there are a handful that you should not preserve using this method. Some foods contain anaerobic bacteria, which can grow without the presence of air. Within a vacuum sealed pouch, with reduced oxygen, these bacteria will grow and may pose a risk to your health.
 Do not vacuum seal:
raw mushrooms
garlic
soft cheeses (blue cheese, brie, camembert, ricotta and other soft and unpasteurized cheeses)
freshly cooked or steamed vegetables (safe to vacuum seal after they are at room temperature)
In addition, many common vegetables emit a gas when stored. If these vegetables - in the Cruciferae or Brassicaceae family - are kept in a vacuum sealed bag, this gas will cause them to spoil. To store these vegetables properly they should be blanched, dried, then vacuum sealed and frozen for storage.
 Blanch first:
arugula
bok choy
broccoli
brussels sprouts
cabbage
cauliflower
kale
radishes
turnips
We hope this little guide has assisted you in identifying the few items that should not be vacuum sealed. You can use your vacuum sealer to safely store
breads
,
meats
,
vegetables
,
potatoes
and more.
 Most 
foods can be vacuum sealed to extend their overall life whilst saving you some money and time! 
Related Posts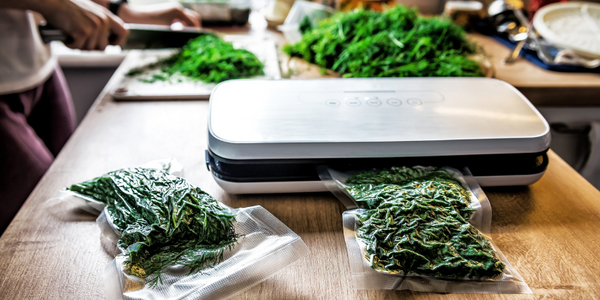 In times of rising prices, consumers often look for ways to cut back on expenses, and one of the essential areas to focu
Read More