Posted on October 30 2018
What to do with leftover Halloween Candy
Your kids brainstormed their costume ideas and you chose your favorite candy to offer trick-or-treaters, in the hopes that there were leftovers, of course! Once Halloween comes and goes, your children return home after a long night of trick-or-treating with their bodyweight's worth in candy.
No one wants to see them eat that all within a few days!
This year, instead of throwing away bags and bags of candy, do yourself (and your children) a favor by sealing their Halloween bounty in small portion vacuum sealer bags from FoodVacBags.com. They can enjoy their haul without going overboard or worrying about waste.
Of course, a familiar favorite time after spending the night out in the cold, is 'the big sort'.
We all have memories of the giant glorious heap on the floor, trading favorites with siblings or friends, and the big decision of which candy to choose as the last piece of the night. Sorting by color, size, or candy type all build foundation math skills while having fun, so let them have at it. When the kids are ready to move on, or they are safely tucked away in bed, sort candy by density to get it ready to seal and save.
Best to keep those chocolate bars, like Milky Way, Three Musketeers, Butterfinger, Snickers, Mounds & Crackle in their own bags. Use the pulse setting on your vacuum sealer, so that you don't squish out all of the soft, tasty insides. Marshmallow treats fall in this group as well.
Gum and licorice could have their own bags and could come in handy for a road trip treat in the future.
Hard candy, like Lemonheads, Nerds, Sour Patch Kids, Warheads, Blow Pops and Tootsie Pops and chewy candy, like Starburst, comprises the last segment of your candy storage. You can use full vacuum power on these and might even still have some around to stick in spring lunches!
FoodVacBags can easily be labeled with a permanent marker to distinguish the different varieties.
With a little planning and small portions, you and your kids can enjoy the spoils of their labor for months to come!
Original post date; Oct 27, 2016, 12:31pm
Most Popular Vacuum Seal Products:
Related Articles You May Like!
What Can I (and Can't) Vacuum Seal?
Why Should I Vacuum Seal? Use, Tips & Benefits
Benefits of Using Oxygen Absorbers
Safety Guidelines for Vacuum Sealing
Can You Boil The Food Saver Bags?
Can You Vacuum Seal Fresh Vegetables?
Can You Vacuum Seal Frozen Meat?
Share Your Vacuum Seal Uses!
Tell us how you love to use your vacuum seal bags, rolls and sealers!
Related Posts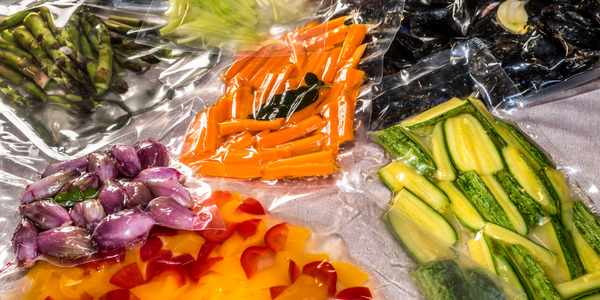 It all began with the onset of the pandemic early in 2020. Many were either quarantined or were reluctant to leave their
Read More