Posted on February 16 2016
*Updated January 20th, 2018
Traditional meatballs are made from ground beef or veal and tossed in some kind of marinara sauce. Here is a new take on an old recipe: Chicken meatballs with cheese and tomato sauce, sprinkled with panko crumbs for a little crunch. Whether you need finger foods for a dinner party you are hosting or are just looking for a new recipe, these sous vide chicken parmesan meatballs are a great addition to any chef's recipe book.
Sous Vide Chicken Parmesan Meatballs
Servings: 6
Ingredients:
1 pound ground chicken
2 tablespoons chopped onion
1/4 teaspoon garlic powder
Salt and pepper (to taste)
2 tablespoons seasoned breadcrumbs (or 

ground almonds,almond flour)

1 egg
32 small cubes of mozzarella (or whatever cheese you prefer)
1 tablespoon butter
3 tablespoons panko
1/2 cup tomato sauce
1/2 ounce grated parmesan cheese
Parsley (for garnish)
Instructions:
Heat water to 145 degrees Fahrenheit.
While the water is heating up, combine chicken with onion, garlic powder, salt, pepper, seasoned breadcrumbs (replace with ground almonds, almond flour for NO CARB option. Ground rolled oats for LOW CARB)
and egg. Scoop out 32 balls of the mixture you just made.
Top each ball you just scooped out with a cube of mozzarella, carefully shaping the meat around the cheese as you do. Place the meatballs in the freezer for 20 minutes. Seal them in FoodVacBags vacuum sealer bags. Cook in the heated water for 45 minutes.
Remove bag from the hot water and separate any meatballs that have cooked together.
Melt butter and add panko over medium heat while warming tomato sauce over medium heat.
Top meatballs with tomato sauce, breadcrumbs, cheese, and parsley as your garnish.
Serve immediately. Enjoy!
Other Recipes You May Like:
BBQ Rub - Chicken, Ribs, Fish & Steak
Corned Beef & Cabbage Using Instant Pot
Beef Tenderloin Sous Vide Style Cooking
Vacuum Seal Articles
Why Should I Vacuum Seal? Uses, Tips and Benefits
Can You Boil The Food Saver Bags?
Can You Vacuum Seal Fresh Vegetables?
Can You Vacuum Seal Frozen Meat?
Related Posts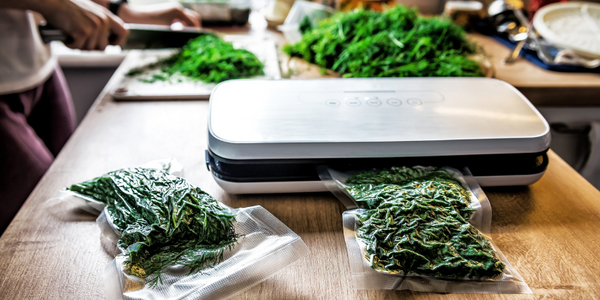 In times of rising prices, consumers often look for ways to cut back on expenses, and one of the essential areas to focu
Read More